In the wake of last week's Saved By The Bell reunion on Jimmy Fallon, I have some more exciting SBTB-related news. Thanks to the Brothers Weeser* (minus Greg and Tim this time) for sharing that, on June 24, the Brooklyn Cyclones -- a short-season single-A affiliate of the Mets -- is having a Salute to Saved By the Bell Night for their game against the Tri-City ValleyCats. Fuck Valley!
According to the team's website, here are the various contests, perks, and attractions for the game:
"Pre-game 'Sprain' Dancing Competition." If only this was a little more than a year earlier, then Casey Kasem could have emceed it.
"A.C. Slater's Sitting Backwards Musical Chairs." Do the contestants also have to call all women "mama"?
"I'm So Excited Fan Cam." I think it should be followed by an "I'm So Scared Fan Cam." Speed kills, people.
"Mr. Tuttle's Learner's Permit On-Field Obstacle Course." Let's just hope there's not a teacher's strike or the statewide glee club competition that day!
"Screech Powers Chess Tournament on the Concourse Level." Probably better than a Screech Powers Stabs You in a Bar Tournament on the Concourse Level.
"Kiss Cam complete with the usual 'WOOOOOOOOOOOW' sounds since our game will also be taped in front of a live studio audience." But will Zack be kissing Kelly, Lisa, Jessie, Tori, Stacey, Melissa (the disabled chick), Laura (the homeless chick), Ginger (the ditz), Kristy (the female wrestler), J.B. (Slater's sister), Jennifer (Slater's ex-girlfriend), Rhonda (the tomboy), Danielle (the USC student), Andrea (from Hawaii), Leslie (from Cal U), or Stevie (her friends call her Colleen).
"Anyone named Johnny Dakota is banned from the ballpark because we 'Say Nope to Dope.'" This is phenomenal, especially if there is anyone in the world actually named Johnny Dakota.
"Oldest Cell Phone in the Ballpark Competition." Derek Morris better show up to the game.
"Friendship bracelet station on the concourse...singing 'Friends Forever' will be optional." Let's not forget the Zack Attack's other hits, "Did We Ever Have a Chance?" and "Love Me Now." I would also have liked to have seen a hot fudge sundae bar, with Hot Sundae's "Go For It" playing on repeat.
"Zack Morris TIMEOUT Race Around the Bases – kids will race around the bases, but most stop in their tracks every time they hear TIMEOUT." I'm assuming they meant "must" instead of "most," but then again kids are stupid these days.
"After the game, fans with perms or wearing acid-washed jeans will be allowed to run the bases." I bet the bridge-and-tunnel crowd is excited about this.
Best of all, check out the unis the Cyclones are going to be wearing (which will also be raffled off throughout the game):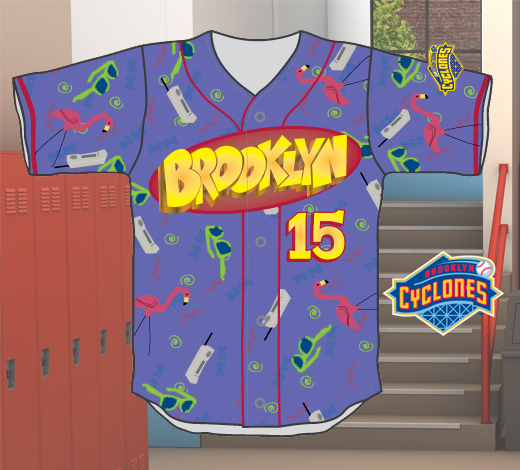 Per the team website, "Single-game tickets will not be available until May, but the team will be offering a limited-edition 'Baseball to the MAX' ticket package, in honor of Bayside's favorite eatery, that will go on sale Wednesday [yesterday, I assume] at 10 AM. The deal includes a ticket to the game, pre-game picnic (starting at 5:30 PM) and commemorative t-shirt for just $40 and can be purchased exclusively at BrooklynCyclones.com."
So, who wants to go to Brooklyn on a Wednesday in June?